We love building the software you want.
That is why we have launched https://ideas.sonatype.com - a way for us to capture your direct input on what is most important to you and use that with ongoing collaboration to help drive the evolution of our products.
Using our ideas portal, you can:
Vote for Sonatype product ideas that matter to you and your organization
Add your own ideas or comments as a direct line of communication to our product owners
Search for changes other people have proposed or that are already being considered
Get email notifications on any idea you find worthy
Access Sonatype Ideas
First make sure you have a registered Sonatype support account. If you don't have one, provide us your company name and products purchased at support@sonatype.com and we'll get it straightened out. If you are unsure about your credentials you can get them here.
Then visit http://ideas.sonatype.com. If you are not signed-in, you will be redirected to a page where you can enter your support credentials securely.
Once signed-in, you will be redirected to a view that looks something like this: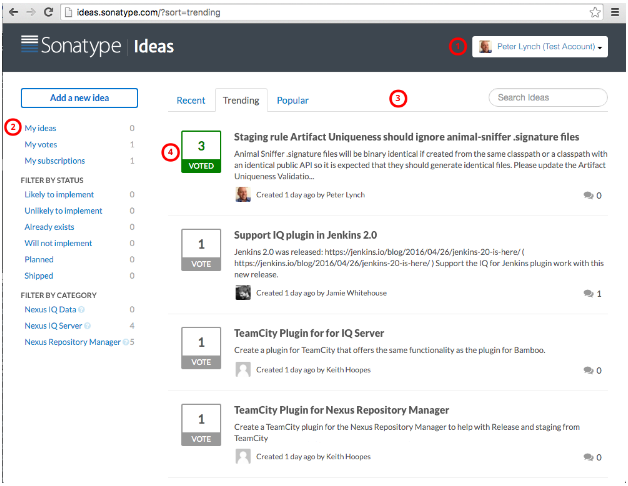 Your name confirms you are signed in - from this menu access your profile.

Use various statuses and categories to locate existing ideas.

See what other ideas are getting traction using these tabs or search for ideas using key words.

Quickly show your support for an idea or identify ideas you have already voted on using the vote box.
We want details - the more the better.
If you can't locate your idea, create a new one. Start with a brief summary and then be as detailed as possible. The more details we have, the better understanding we get of your exact needs.
If you find an existing idea that is similar but doesn't mention something you'd like to see, add some comments to that idea to get feedback from others.
Stay connected with us.
Ideas that get new comments or change status will trigger an email notification to anyone subscribed to that idea.
Subscribe to email notifications by viewing a specific idea, then click the Subscribe button on the right side of the screen. If you are already subscribed, the button can be used to Unsubscribe.

Below the buttons is the current status of your notifications for that idea.
Frequently Asked Questions
Is the site secure? I noticed I'm using an insecure URL of http://ideas.sonatype.com instead of https://ideas.sonatype.com
Yes the site transmits data and credentials securely.
We wanted to give you an easy to remember site URL. A visual limitation is the URL may look insecure. However the main contents are loaded in a frame where data is transmitted over a secure connection to either https://sonatype.aha.ideas.io or https://ideas-sso.sonatype.com .
Who can access the ideas portal?
Initially we are limiting access to our paying customers and Sonatype employees.
Given some of our products can be used for free, we may expose the site to verified non-paying product users in the future.
Can other customers see my ideas and comments?
Yes.
Everything you write is visible to other Sonatype customers and employees accessing the site. We believe this helps share the collective feedback, relate the idea to its popularity, and build a community.
We reserve the right to edit or remove material we deem inappropriate.
What personal information will other customers see about me?
Other customers can only see your ideas portal profile first and last name, which may be in some cases the first part of your email address before the @ symbol. Any gravatar associated with the email address of your account is also displayed.
We do not share your actual email address or organization with other customers.
Does the ideas site replace https://issues.sonatype.org?
No.
The ideas portal aims to be where the seed of a new idea from our customers gathers steam to help drive our product development scheduling and prioritization.
Our issue tracker is where we track bugs in existing features and active work in progress. Ideas or feature requests that accidentally get put in our issue tracker, may be moved to the ideas portal or deleted.
How can I unsubscribe from all idea notifications?
Login to the portal and click My subscriptions on the left side. For each idea listed, click the Unsubscribe button.