We love building the software you want.
That's why we've launched our updated Product Feedback portal at https://ideas.sonatype.com, Sonatype Ideas. 
What is the Ideas Portal?
The Sonatype Ideas portal allows you to: 
Submit ideas for product feature & functionality requests and have a direct line of communication with our Product team
Vote for ideas that matter to you and your organization
Collaborate with peers by adding comments to other ideas
Track the progress of any idea from submission to implementation
After submitting an idea in this portal, you can expect a response to your request from our Product team. We are committed to responding to any new ideas within 14 days. 
Sign-in Required
To access the Sonatype Ideas portal, you will need to be member of a verified organization with a product license registered at my.sonatype.com. If you are not sure this is done or need instructions on how to do this, watch this short video to learn more. 
Once signed in with your my.sonatype.com account, you'll be redirected to the Sonatype Ideas portal. 
Searching the Ideas Portal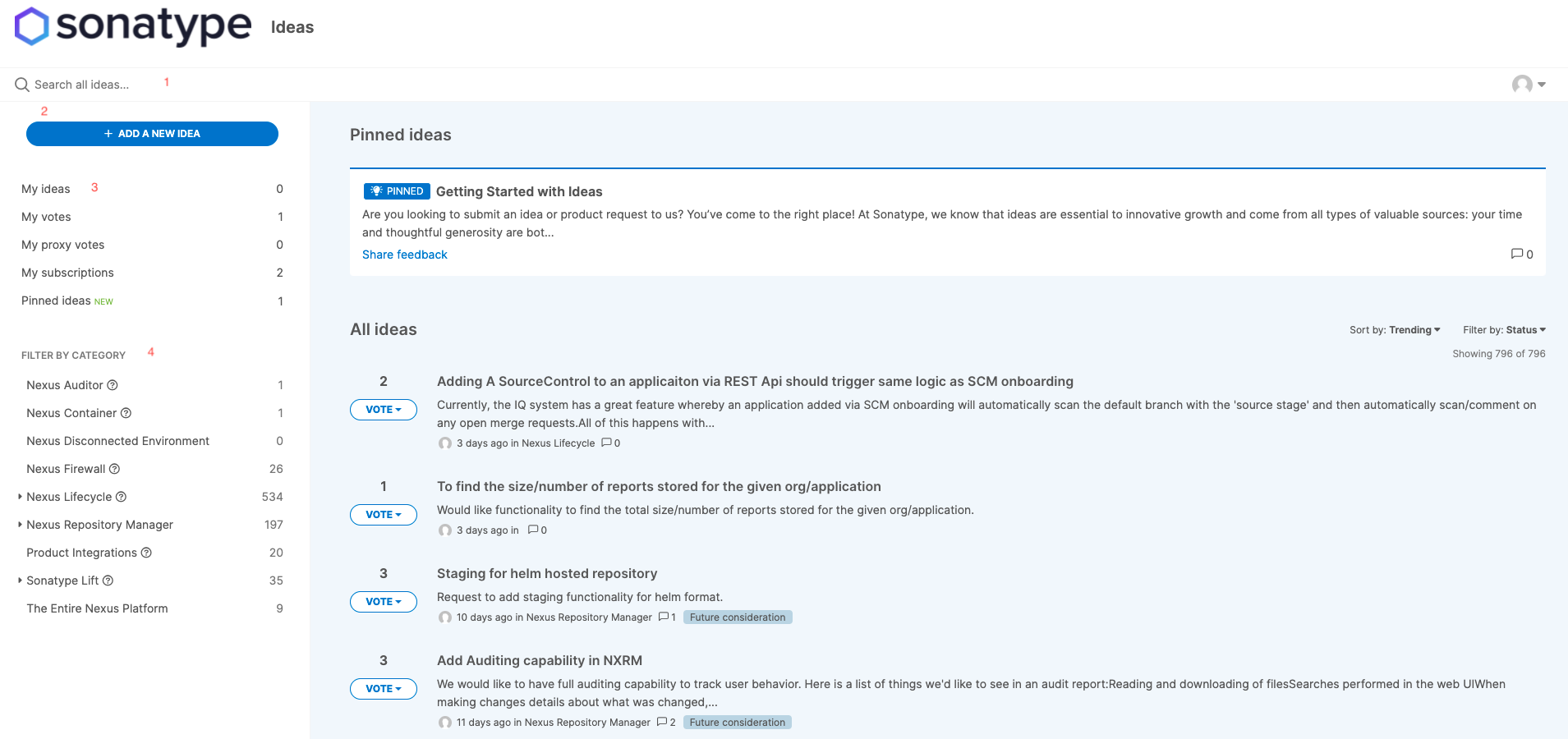 Once on the main page of Sonatype Ideas, you'll see a menu on the left-hand side with several options: 
Search through all ideas using a keyword. 

Add a brand new idea. We'll go into more detail about this below. 

Find your submitted ideas, your votes, and more all in one place. 

Filter all ideas by selecting a relevant category. 
You can also sort all ideas by the following keywords: 
Trending - show the ideas that are currently trending in the portal first
Recent - show the most recent ideas first
Popular - show the ideas with the most votes first
Or filter all ideas by their status: 
Future consideration
Likely to implement
Unlikely to implement
Already exists
Will now implement
Planned
Voting for an Idea
Once you've found an idea that resonates with you, you can vote for it to show your support. 

Click the VOTE button to add your vote. You can also ask questions or continue the discussion by using the +ADD A COMMENT button. 
Adding a New Idea
If you can't find a similar idea to yours, you can add a new one. 
On the homepage, click the +ADD NEW IDEA button. 
Here, you'll want to add a name for and details about your idea and select the category it belongs to (typically, this category reflects a particular product.) Lastly, you'll select a time frame in which you'd like to see this idea implemented. The more details we have, the better understanding we get of your exact needs.
Any similar ideas will appear in the center of the idea creation window when you start typing. If you find an existing idea that is similar but doesn't mention something you'd like to see, add some comments to that idea to get feedback from others.
Subscribe to an Idea
Ideas that get new comments or change status will trigger an email notification to anyone subscribed to that idea.
Voting for an idea will also automatically subscribe you to the idea so you'll get notifications about any changes that have been made. 
Subscribe to email notifications by viewing a specific idea, then click the Subscribe button on the right side of the screen. If you are already subscribed, but no longer want to be, the button can be used to Unsubscribe. 
Frequently Asked Questions
Who can access ideas.sonatype.com? 
Sonatype Ideas can be accessed by Sonatype customers with a verified license and who have created an Organization at my.sonatype.com, as well as Sonatype employees. 
If you are an OSS user, please head to the Sonatype Community and post any feedback in the appropriate category.
I entered an idea using an old method (i.e. submitted through the Sonatype Community, someone at Sonatype logged it for me, etc). Can I find it in this portal and if not, where can I find it? 
We have consolidated ideas from other locations into this portal. If you cannot find your idea, please let us know.
Can other customers see my ideas and comments?
Yes. Everything you write is visible to other Sonatype customers accessing the site. We believe this helps share the collective feedback, relate the idea to its popularity, and build a community.
We reserve the right to edit or remove material we deem inappropriate.
What personal information will other customers see about me?
All comment authors and idea creators are anonymized and read as "Guest". No Gravatars are shown. We do not share your actual email address or organization with other customers.
Where do I go if I have additional feedback? 
Not all feedback comes in the form of a feature request. If you uncover a bug or need technical support, licensed users of Sonatype products can submit a request at support.sonatype.com.
We also encourage you to ask questions in the many categories available in the Sonatype Community.